Female personal training at one of the best gyms in Derby
Gyms in Derby have been supporting local people to stay fit and healthy for years; but as times change, fitness enthusiasts are seeking more personalised training experiences. That's where the Tone Zone comes in – an exclusive training studio located in one of Derby's finest gyms, dedicated to providing female-only training sessions within a safe, relaxed and friendly environment. Along with personal training, we also have a female only 24/7 gym called Ladies Gym Derby where you can work out and get fit at anytime of the day.

Within the peaceful confines of Darley Abbey Mills' top floor studio, women of all ages can experience a private, individualised regime with top trainer Cherie Carroll. If you're looking for a new gym, Derby's premier fitness instructor is on hand, providing 1:1 sessions for women who love to work out but end up feeling demoralised or even side-lined in mixed-sex gyms, where a male-centric ethos can often prevail.
In order for women to achieve their full potential, it's vital that they are given the opportunity to train in a safe, positive atmosphere. For some, mixed gyms can provide this; but for others, having a dedicated Derby-based female-only fitness studio has given them the opportunity to engage in personal training on their own terms.
What makes the Tone Zone the best Derby gym studio to train at?
There is no definitive list by which to define the 'best' gym – you need to look at what each gym offers and whether it meets your specific needs. What sets the Tone Zone apart from other private gym studios in Derby, though, is that it's been conceptualised and created with a very specific group of people in mind, and therefore everything is tailored to best suit their workout styles and needs. As a result, it offers an unparalleled experience for female gym-goers wishing to develop their abilities, lose weight or tone up through the use of dedicated personalised sessions with a qualified trainer.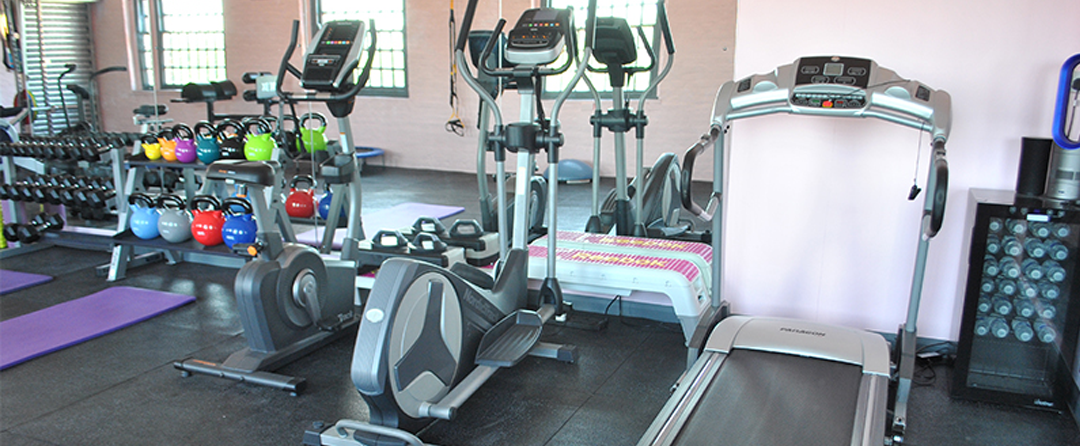 Fitness suites and personal training form integral parts of many gyms in Derby, but Cherie Carroll as taken it to new heights by offering an all-female focus, with machines and equipment to suit the different skills, abilities and interests of women. There is a full range of cardio equipment such as treadmills, cross-trainers, bikes and rowing machines to help raise your heartrate and burn excess calories and fat. There is also an extensive selection of resistance and weight training equipment to suit all regimes and exercises, including weights, benches and bars; kettlebells; suspension equipment; exercise balls; and a trampoline. All of these combine effortlessly to create a well-rounded workout routine that will help you tone up, slim down or increase your overall level of fitness.
Why should I attend a gym in the first place?
For lots of people, the many gyms in and around the Derby area give them the structure and regimentation they need to maintain a fitness routine. Where most people – especially those of the female persuasion – fall down when working out at home or alone is that they lack or lose motivation, especially if initial results are not promising. Gyms offer a more focused environment in which to complete exercises, and have staff on hand to answer any questions or provide a boost of confidence or motivation when needed.
So why do I need a personal trainer?
Personal training is the next step up from standard gym membership. You're given an individual instructor, either through your gym or privately like Cherie. Your personal trainer will devise an appropriate exercise regime for you based on your current weight, your goals, the duration and regularity of sessions, and your lifestyle in general. Your trainer will then spend each session with you in the gym studio, talking you through each exercise, keeping track of what you're doing, correcting your mistakes and pushing you to try your hardest at every opportunity. Having a personal trainer often results in achieving your goals quicker, as you are less likely to give up partway through a session, and being lazy isn't even an option! Not all gyms in Derby offer this service, so if you do think you'd benefit from a personal trainer – and you're female – then the Tone Zone is definitely the answer.
Why is there a need for a female-only Derby fitness studio?
At the Tone Zone we're dedicated to giving every woman the chance to achieve her fitness goals in the comfort and privacy of a personalised 1:1 gym session in Derby. For many women, their body image is one of the main factors that influences their happiness – to a much greater extent than for men. In a recent survey, 26% of women said they hated the way they looked when they exercised which is, by extension, impacting on the amount of dedication they show to exercising. Women often feel that men are more likely to judge them for their weight or shape, and they can feel intimidated when working out around men. In addition, single-sex sessions allow women with cultural or religious restrictions on interactions with the male sex the opportunity to lead healthier lifestyles. It therefore seems sensible to offer those women the chance to exercise without the external pressures, social limitations, and occasional harassment (which happens more often than you might think) that a male presence brings, and this is something all gyms, not just those in Derby, should aspire to.
What kind of training does the Tone Zone offer?
Unlike other gyms in Derby, Cherie Carroll's private fitness studio has been tailored to create exactly the right kind of atmosphere and workout regimes which best suit women's needs. It offers a range of activities and exercises to suit your weight, goals and current fitness levels, as well as taking into account any limitations you might have. As a result, your regime might rely more on cardio activities, or be more weights-based, although most routines will incorporate a blend of the two. Music is on hand to keep you motivated, maintaining a steady speed, and to make the session more enjoyable, and of course Cherie is there with you at every point to keep you focused, safe and determined.
Whether you're a regular gym bunny or a workout novice, the Tone Zone is the perfect environment for you to begin your personal training. Located in a popular Derby gym, and offering a friendly, relaxed environment in a women-only setting, you can focus on achieving your fitness goals without any distractions. With high-quality instruction from a professional trainer using premium equipment and the latest technology and fitness techniques, you're already one step closer to reaching your targets.
For the best experience of gyms in Derby, look no further than Cherie Carroll's Tone Zone, specifically designed with women in mind, giving total peace of mind and an encouraging environment in which to train, improve and excel.